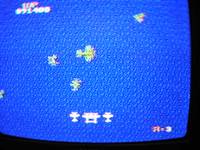 I died shortly after this...

It's difficult to snap a photograph and also avoid the attacking kamikazes and zeros. Pausing clears the screen, so that wasn't an option. I love my wingmen. Oh man, the game pad, the A & B buttons, start and select. It all came back so naturally. I also got a pic of the tshirt from Monday. I'll have to post that later.
New power adapter: $12.99
New RF modulator: $17.84
Used 1942 NES game: $7.99
Extra video cables: $6.96
Playing Nintendo on a Tuesday night in 2004... you got it ;-)
Now maybe one day I can save up $12.99 to buy Tecmo Super Bowl...
"There's a girl that's been on my mind, all the time. Su-sussudio. Now she don't even know my name, but I think she likes me just the same, su-sussudio..."