Well I was out Tuesday night, so I watched my tape of Jason Alexander's new show, Listen Up, last night. Considering my expectations had been lowered based on the premise of the show plus a bad review of the pilot that I read yesterday, I was pleasantly surprised. There were some good moments, although I'm not sure I see enough material for a long-running show there. Of course, they probably won't have to worry about that, considering Bob Patterson was cancelled within a month and the Michael Richards Show after like three months. But again, I'll be interested to see what ideas for episodes they have come up with. Seems to be a lot of man/woman/two kids sitcoms on these days, which also works against it. There was definitely some Seinfeldish stuff in there though.
In other good news, I drove my truck home yesterday. I haven't been able to drive it since I tore the ligament in my left ankle, and that is my "clutch" foot. But everything went OK yesterday. I have missed it. Don't get me wrong, I loved the Monte Carlo. 0-60 in like six seconds is nice. But it's kinda like dating a girl for a long time, then going out with a prettier girl with a better body for a few weeks. Sure, it's nice for awhile, but the new girl doesn't know all my nuances, my faults and imperfections. Or maybe it's not like that at all. Nevertheless, it was nice to have that short stick in my hands again, the worn shocks, the even more worn brakes, the slight vibration over 60 mph. It's good to be back home.
Otherwise yesterday, I got laundry done. Chef Jeno prepared a delectable sausage and ham pizza for dinner last evening. I ate in the west solarium, while watching Listen Up! Or I ate in the living room floor, whichever. Several of the Nintendo games weren't working, so I kept cleaning them. Finally got all of them working except for Mario Bros. Never could get it to come up. If you have any NES system/game cleaning tips, do share :-)
I have another doctor's appointment today. Hopefully, everything is healing OK. I'm gonna ask about possibly getting a smaller cast/brace to wear at some point, since I cannot get dress shoes on over the current one.
Here is the t-shirt I was given the other day. First, let me say I have never been to this place. If you're local, then you have possibly heard of it. I know some of you will get a kick out of this. I just wish Donna still had internet (or wasn't blocking my email), so I could send this to her: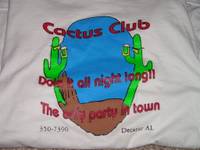 I wish Donna could see this...

"I loved deeper and I spoke sweeter. And I gave forgiveness I'd been denying. He said, someday I hope you get the chance to live like you were dying..."