I headed to the beach with
the roomies
this past Thursday. Or ex-roomies, actually, now. Wolfgang, Little Joe, and I spent a long weekend in beautiful Destin, Florida. What trouble could possibly befall three hetero guys spending four days and three nights at the beach? Well, there were a few minor issues.
We stayed at a lovely beach house. I have nothing but good things to say about our upstairs studio with stove, microwave, full-size fridge, and swimming pool view. However, imagine trying to pick up a girl on the beach, and when she asks where you're staying, you're forced to reply with,
Nantucket Rainbow Cottages
.
One of the most pressing issues facing three hetero guys at the beach is how to get sunblock on those hard to reach places on your back. This is normally a
great
way to strike up a conversation with a bikini-clad hottie.
However, our first day on the beach, I determined that I have no idea how old girls are. Or guys for that matter. No idea.
To wit, there were two girls tanning next to us. I was about to ask one of the slender, bronze-skinned dames to gently and liberally apply lotion to my back. That's when a young boy who looked to be no older than 14 walked up and struck up a conversation with one of the girls. He asked how old she was. She was 16.
I decided at that point I would not trust my age-ometer the remainder of the weekend. However, that left me with a quandary as to what to do about my back. Although I wouldn't have minded Joe or Wolfgang rubbing me down, there was no way I was going to return the favor.
So we were left to our own devices. Which pretty much ended up with us all looking like we were trying to pull a "kick me" sign off our backs.
I did have a couple of ideas since, however. Such as putting the lotion on a butter knife, and spreading it on my back. Or squirting sunblock on the shower wall and then rubbing my back up and down it. Oh well. Maybe next time.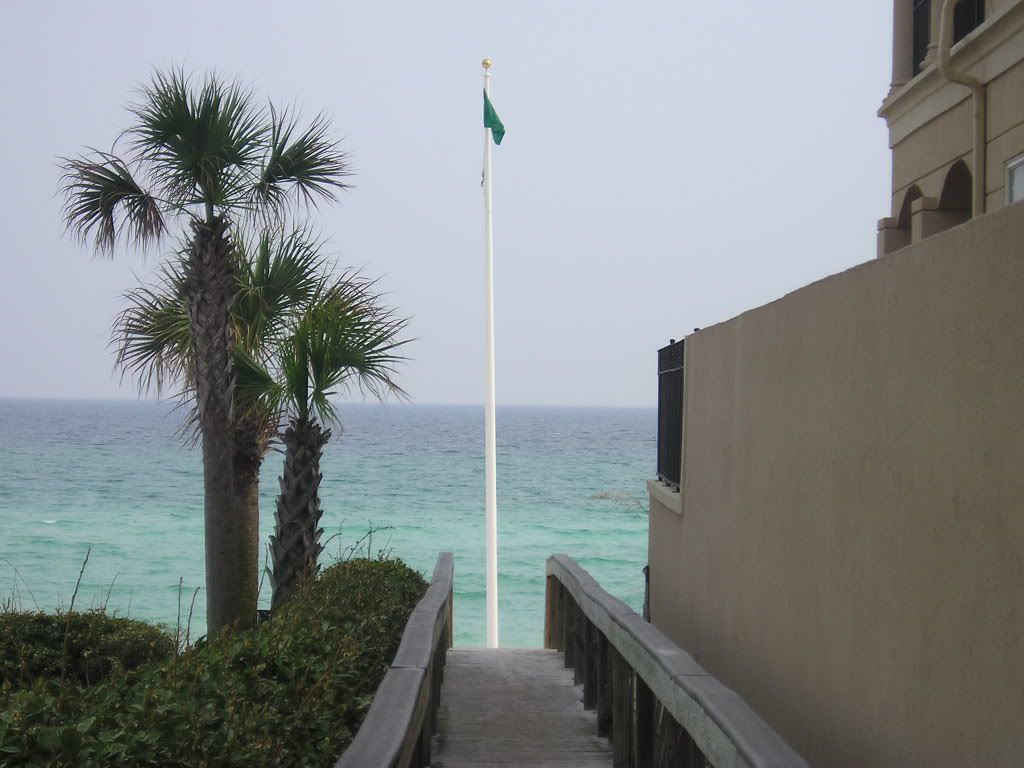 Something else I discovered on our trip. Little Joe and Wolfgang are two of the most indecisive human beings who have ever drawn a breath. I had to make every single decision, from where we stayed, to when we left, to which route we took, to where we ate, when we went to the beach, and what we did at night. Every. Single. Decision.
Not only that, but it was like they couldn't do anything or go anywhere unless I came along. We stayed up until 2:30 or so playing poker Thursday night. When I woke up Friday morning, around 9:30, they were both up and watching TV. (Joe apparently gets up with the roosters. Although I don't recall hearing any roosters at the beach, he was sitting outside on the balcony every single morning when I awoke.)
They were evidently waiting on me to get up so that we could all go to the beach. I told them at that point, and several times throughout the weekend, to feel free to go to the beach, or anywhere for that matter, without me. We all had room keys. We're already staying at the Rainbow Cottages. There's no need for us to hold each other's hand everywhere we go.
Still, they never went anywhere without me the entire weekend. Not that it bothered me. I found it quite humorous actually. It was kinda like Larry, Darryl, and Darryl go to the beach.
Except they talk. A lot. And sometimes argue like an old married couple. Little Joe put his shoes on Friday for no apparent reason. This conversation ensued.
"Are you going somewhere?"
"No."
"You're not going out?"
"No."
"Why are you putting your shoes on to sit in the room?"
"What does it matter?"
"I just find it odd."
And that became our phrase for the weekend. "What does it matter?" Most any discussion we had from then on would be ended when someone would say, "What does it matter?" Still, I found the shoe thing odd. Saturday, Joe took a shower, and came out of the bathroom wearing his shoes. Odd, I tell ya.
We did get to go to
Fudpucker's
for lunch Saturday and to the Donut Hole for breakfast Sunday. Two of my favorite places, as I
was
making all the decisions.
One other highlight from the weekend for me was bungee jumping. No, it wasn't off a bridge over a river like in a Mountain Dew commercial. It was in an amusement park type thing. But it was still high. And fun.
The worker at the top had a very strong foreign accent. As he handed me this thing that looked like a boxing heavy bag, except smaller and softer, I thought he said, "Hold on tight to this and just keep walking."
But at this point, I wanted to be sure I didn't misunderstand, you know. What if he had said, "Hold on tight, it isn't working." Or "The rope is broke. Don't start walking."
After he repeated himself, I started walking. And kept walking. Didn't look down. Just fell. All I could do was break into uncontrollable laughter, which lasted until my feet were on the ground. It was an amazing rush.
Whenever I go to the beach, I always like to do two things. I like to walk along the shore one last time my last day there. To impress into my brain and my memory the feel, the scent, the sights, and sounds. And I like to go at least one night and sit on the beach by myself.
I walked down to the ocean Saturday night about 12:30. Buried my feet in the sand. Someone was shooting off fireworks to the east. Close enough that I could see them, but far enough away not to interrupt the peacefulness of the ocean at night.
From somewhere in the darkness behind me, I could hear the sound of women's voices. From one of the hotels or beach houses, I supposed. There was lightning off to the west. But no thunder.
I sat there for at least half an hour. Only one couple passed by. Talking. Laughing. Holding hands. Then a bird, a crane maybe, landed about ten yards away and walked to the edge of the water. He seemed unbothered by me.
So there we sat. Him scanning the tide for food. Me looking up at the stars. Listening to the waves. Casting my cares to the wind. Thinking. About all the things I always think about when I'm at this place. The only other place in the world that feels like home.
The bird was still there when I left and went back to the room. Maybe it's there right now, looking for food again at the water's edge. And somewhere there's a couple strolling down the beach hand in hand. Maybe not the same couple. But another.
I always like to imagine the beach is just as I left it. As much as I hate to leave, it comforts me to know the waves are still crashing and the ocean breeze is still blowing. And will be. No matter how far away I am. Or how long I'm gone.
"I remember Sunday mornings, walkin' on the beach. And that place we'd stop for breakfast with the old red vinyl seats. The hours of the tide chart. The way the sunlight danced upon your face..."