And we're back. I'll blog more tomorrow. For now, here are a few pics from Gulf Shores/Orange Beach '05: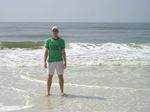 Wish you were here.

The pink pony... repaired and open for business.

And the frisbee game was no more :-( Just a little tetanus. Maybe a little gangrene.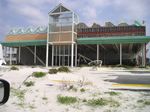 Gov. Bob Riley: "Everything is back to normal. We welcome everybody down to Alabama's beaches." Errr, yeah. Sure.

I'm not sure why I would have taken this picture. Hmmm.

If only. What?

There would normally be lots of people in this shot.

The view from our room... if you craned your neck around the corner and held on to the balcony with one hand while singing Camptown Races.

"You can run and you can hide, but I'm not leaving 'less you come with me. We had our problems, but I'm on your side. You're all I need. Please believe in me..."