A long time ago, in a blog not that far away, there was a weekly blog meme known as the Thursday Thirteen. The premise was straightforward: Blog a list of thirteen things. It could be your thirteen favorite Keanu Reeves movie quotes ("Excellent!" "Party on, dudes."), your thirteen favorite Oprah giveaways, or simply thirteen random thoughts.
With all it's alliterative allure and randomness, how could I refuse? So I participated for a few weeks back in late 2005 and early 2006. And here's a bit of Bone trivia: The Thursday Thirteen was how I "met" Renee (I'm pretty sure). An encounter which has truly enriched her life (less sure).
So for old times' sake...
I. I watched "Sharknado 3" last night. I never saw "Sharknado 2" so I was a bit lost for the first few minutes. Spoiler alert: The movie ends with David Hasselhoff floating off infinitely into space. Which, coincidentally, is where I thought he had been all along.
II. Summer TV: 200 channels and "Full House" reruns are still the best thing on at least four nights a week.
III. Sticking with the TV theme, Monday is
Luke Spencer's final day
.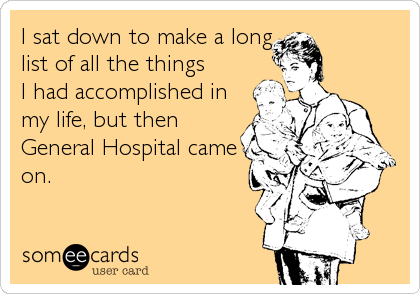 IV. "How do you tell somebody that you care about deeply, I told you so? Gently, with a rose? In a funny way, like it's a hilarious joke? Or do you just let it go, because saying it would just make things worse? ...Probably
the
funny way." ~ Michael Scott. (I've been rewatching a lot of "The Office" on NetFlix lately.)
V. I'm in between books right now. Waiting for "West of Sunset" to come out in paperback, 'cause that's how I roll. And wondering should I read "Go Set a Watchman."
VI. Dad turned 65 this week. I bought him some Fender wall art at Hobby Lobby for his guitar/amp repair shop, then signed his card, "Love, Bone: The Fender Stratocaster of sons."
VII. Mom slipped "POTUS" into a conversation yesterday. Which prompted a "Whoa, whoa, whoa! WHAT did you just say?" response from her firstborn. "POTUS?" she repeated, sounding a tad uncertain she had used it correctly. I continued. "First you get an iPhone. Now, POTUS is part of your daily vernacular???" This is a woman who cruised through the 80's and 90's never even
attempting
to figure out how to program a VCR. I'm gonna need some time to process. I don't understand the world anymore.
VIII. "I wish you would post even more political and religious stuff on Facebook," commented no one, ever.
IX. We went to see the musical, "Oklahoma!" last week. I think I can sum it up in one word: long. It was an hour and forty-three minutes before they got to intermission! I wasn't sure I was going to make it. Hopefully, I scored some bonus points. Although I may have just been making up for some previously accrued demerits. I firmly believe some mysteries cannot be known by mortal man.
X. The same local troupe that did "Oklahoma!" is doing "As You Like It" later in the season. I'm thinking it's a go. After all, can one desire too much of a good thing? And by desire too much of a good thing, I mean, accumulate too many bonus points. What sayest thou?
XI. In honor of the 46th anniversary of the alleged moon landing... We can put a man on the moon but we can't put a small, respectful partition between every single urinal in every single public restroom in this country?! (Sticking with the Shakespeare theme) I think no partitions is taking this "All the world's a stage" thing a bit too far.
XII. There are 44 days until college football season. "I can tell you who time strolls for, who it trots for, who it gallops for, and who it stops cold for." And I can tellest thou who it dost moveth like a snail for. (Hint: It's a blogger who accrues demerits at a sometimes frightening pace.)
XIII. I've been listening to the new Jason Isbell album. (I had to do something to get "Oh what a beautiful moooooor-ning" out of my head.) After the brilliance of "Southeastern," I was afraid I'd be disappointed in whatever came next. Kinda like losing the best girl you ever had. But music is not like women, so I needn't have worried.
Even though the album only came out this past Friday, the folks at YouTube are all over it. This is one of my favorites so far. The hook line is sort of a theme woven throughout the album and many of the characters he paints such vivid pictures of. It poses one of those profound, make-you-think questions. I know
I've
been obsessing over it for days now...
"Are you living the life you chose? Are you living the life that chose you?"